"Existential Ultra-Violet Photo Run"
mediated performance in "Ultraviolet Radiation"
curated by Tom Estes
Waterloo Action Centre, London, UK
Feb 27, 2016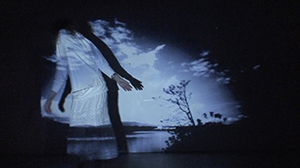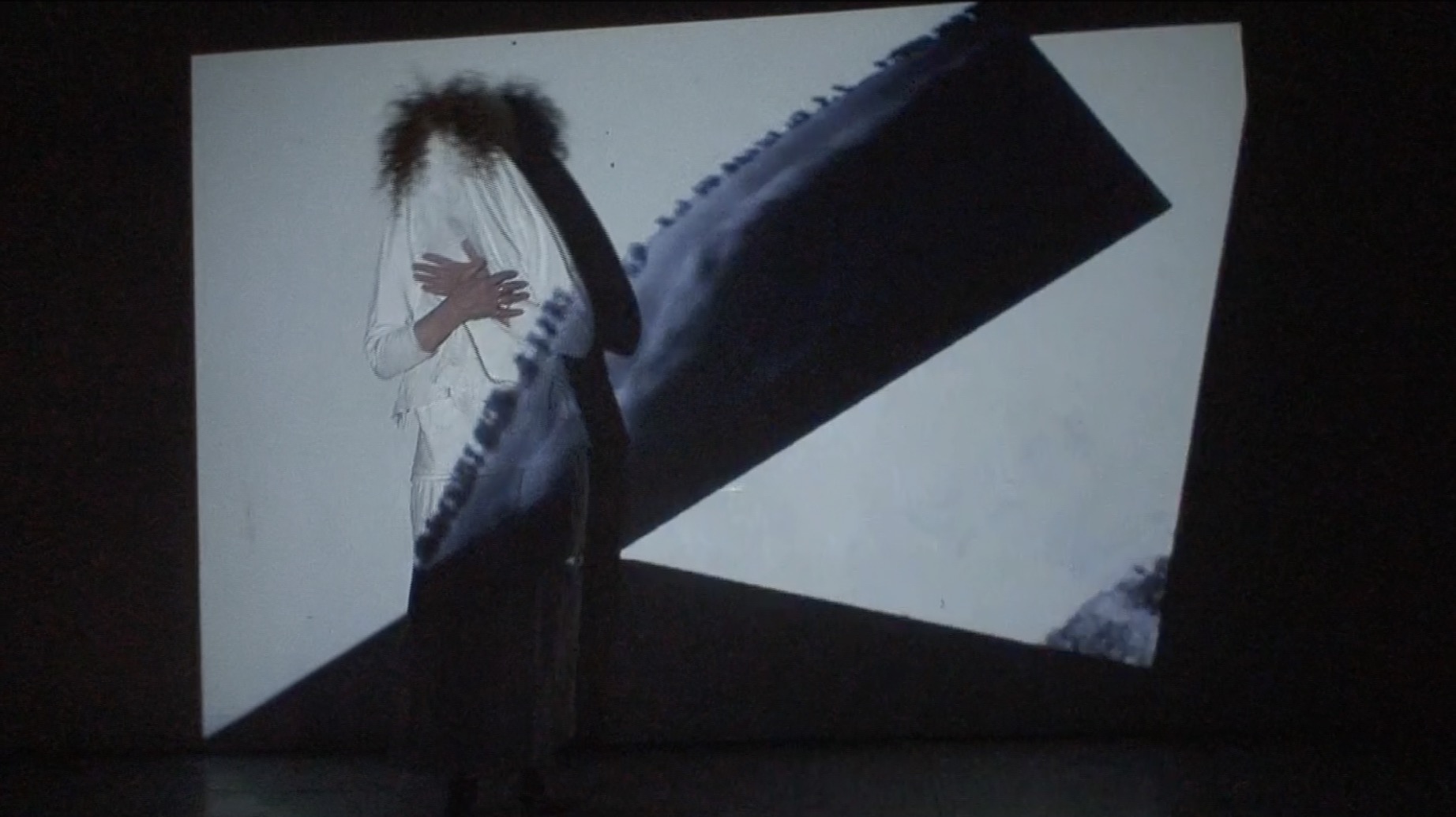 "I'm Growing Up"
media-morph performance in "Exist Audiopollen"
curated by Rebecca Cunningham
Room 60, Brisbane, Australia
Oct. 4, 2013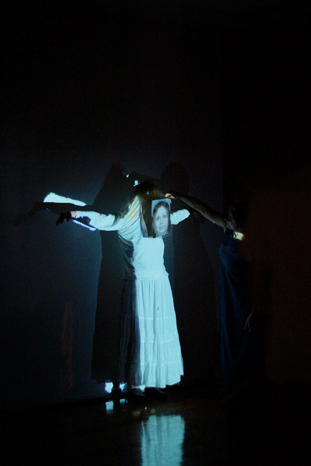 "I'm Growing Up "
media-morph performance in "Performance Heart "
curated by Geraldo Mercado
Grace Exhibition Space, Brooklyn, NY
April 16, 2013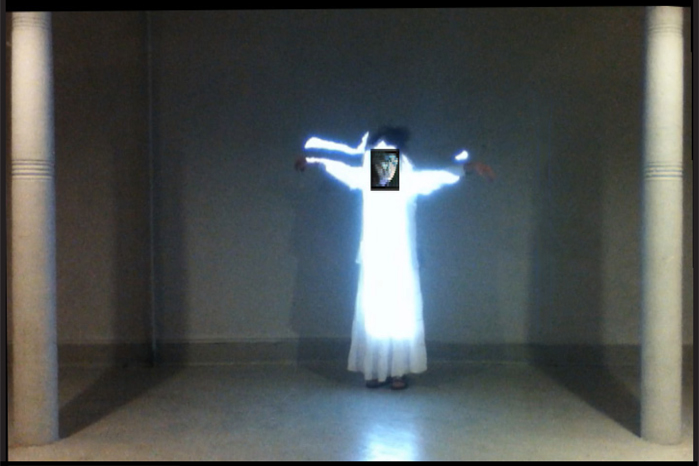 "Provocation Cards Interact Paris 2013"
solo performance interaction
Espace Trocadero, Paris, France
Feb 5, 2013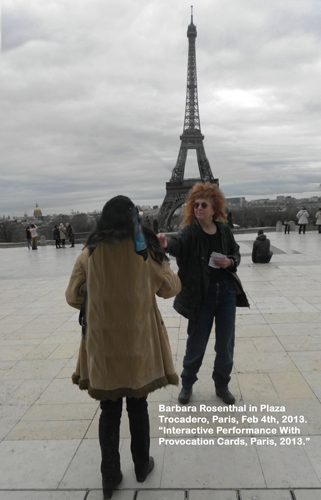 "Icy Cold"
in "Surreal Performance with Photo-projections, Words and Voice"
hosted by Alyssa Devine and Natalie N. Caro
Gathering of the Tribes / Tribes Gallery, NYC
July 22, 2012
"Decade of Madness: Cold Turkey at the Dog Run"
solo performed reading with surreal photo-projections hosted by Alex Harsley
Fourth Street Photo Gallery, NYC
May 24, 2012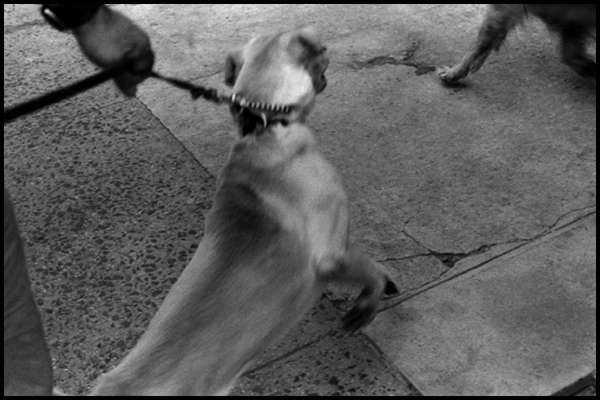 "Three Bottles>"
in "Surreal Jazzoetry" curated and MC'd by Valery Oisteanu
Bowery Poetry Club, New York
Sept. 24, 2011
"Barbara Rosenthal and DJ RoBeat On Stage"
in "Tuesday Night Events" hosted by Paul Salamone and Denis Lyons
Joe's Bar, Berlin
Aug. 21, 2011
"Identity Theft Masks
with Button Pins and Provocation Cards Interactive Performance"
in "Interview Performances" curated by Irina Danilova and Hiram Katz (Project 59)
SET Gallery, Brooklyn, NY
May 6, 2011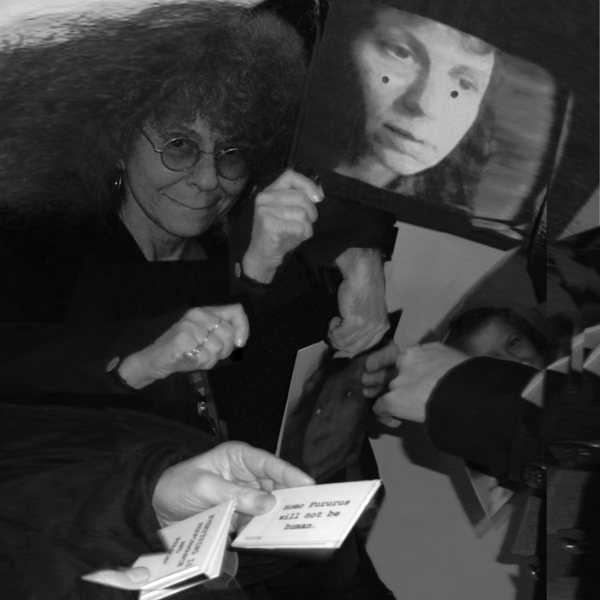 "The Journal Gives Me Ideas"
solo performance, reading and projections hosted by Maddy Rosenberg
Central Booking, Brooklyn, NY
April 1, 2011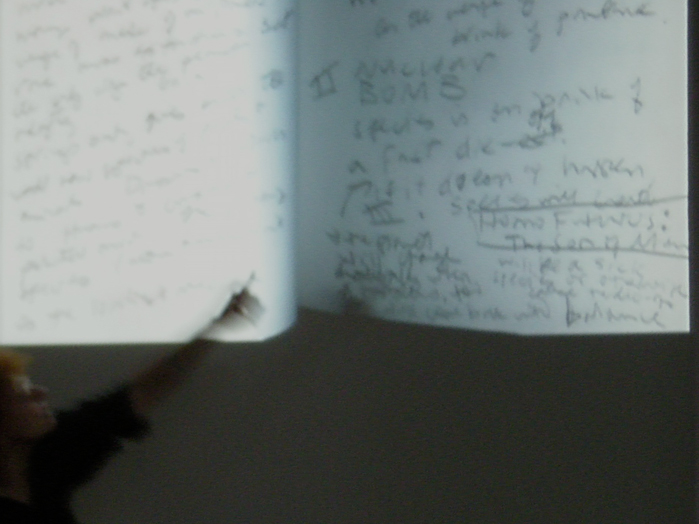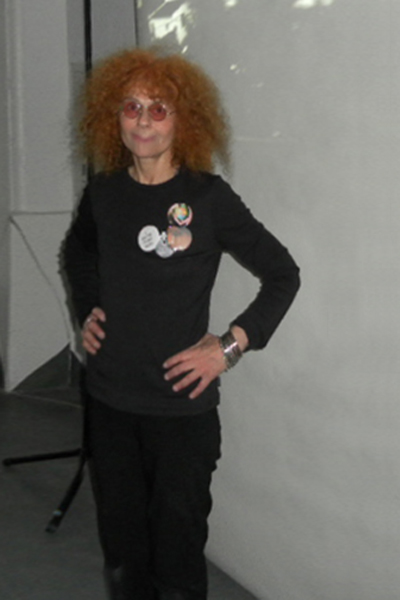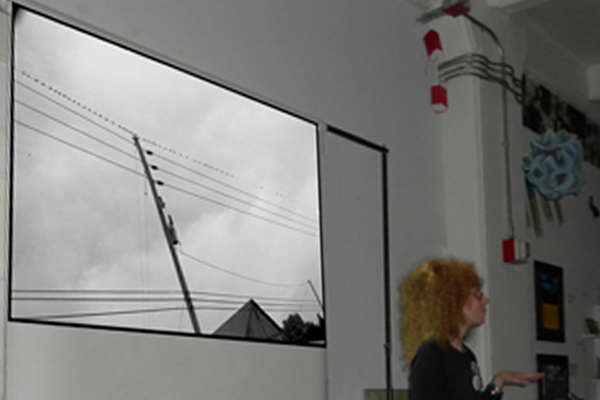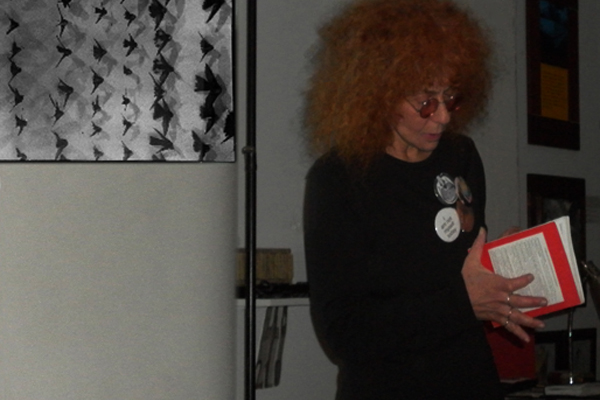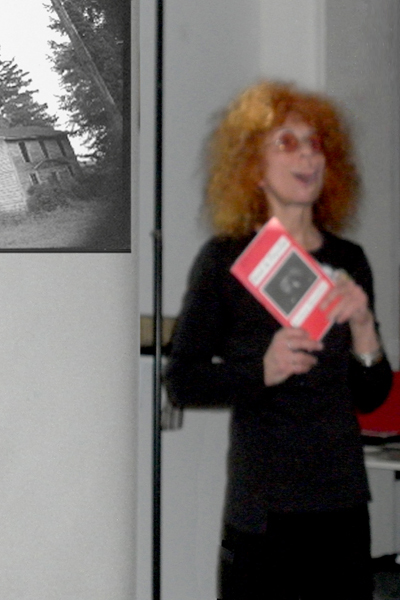 "Push Me"
video performance representing the U.S. in Performance Art and Text-Based Art
in"TinaB: Prague Contemporary Art Festival" curated by Monica Burian
Czech Centre, Prague, CZ
Oct. 2010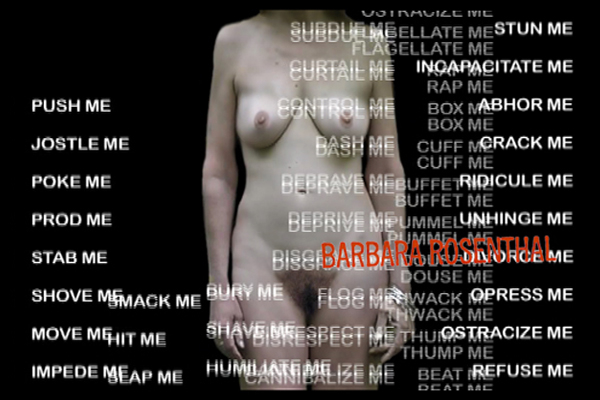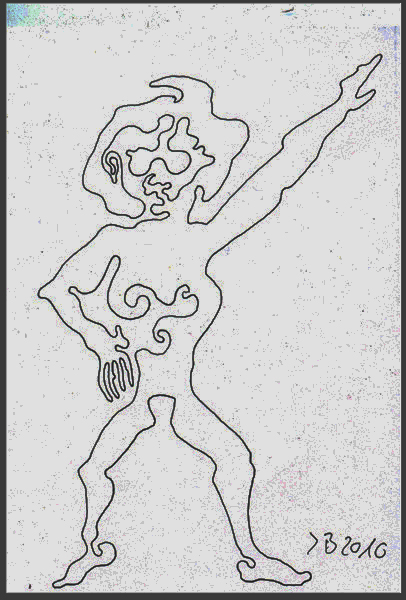 "Everything is Performance and Persona: Performance With Provocation Cards"
independent solo interactive performance
Grand' Place, Brussels
June 24, 2010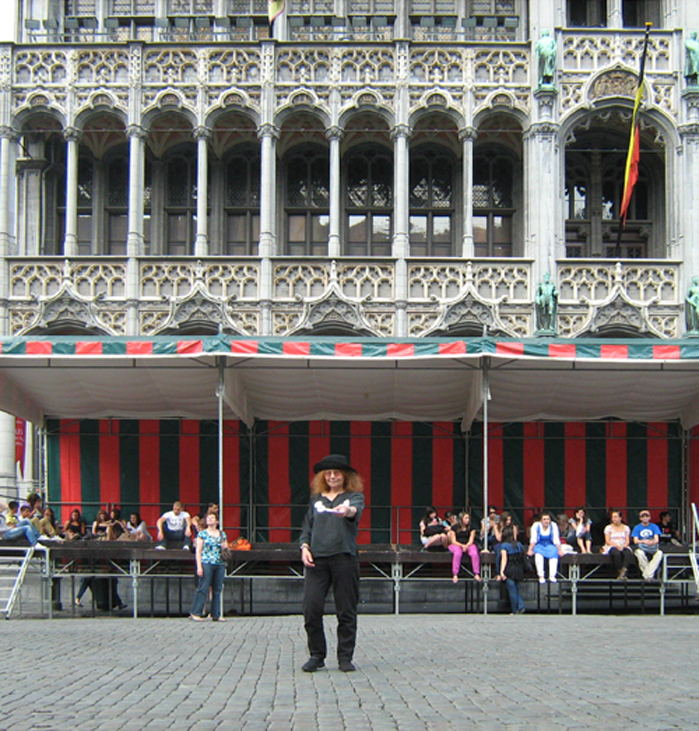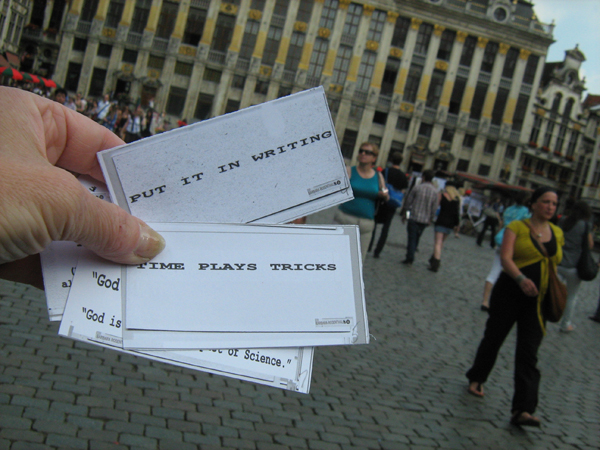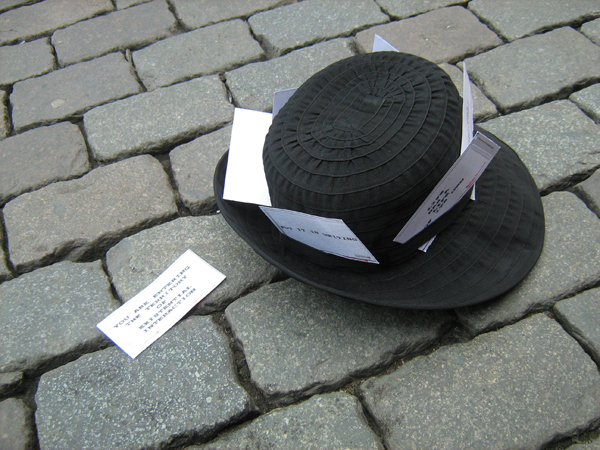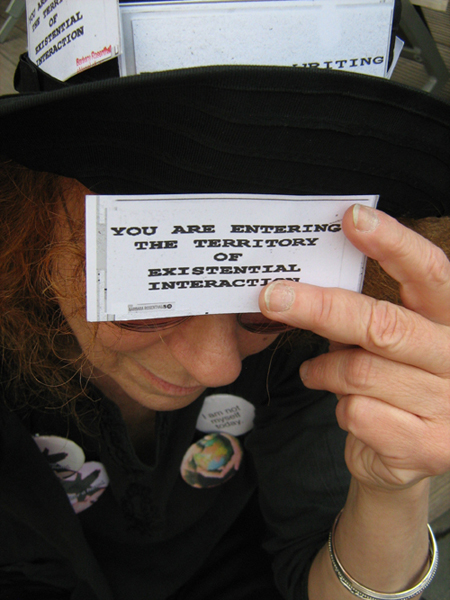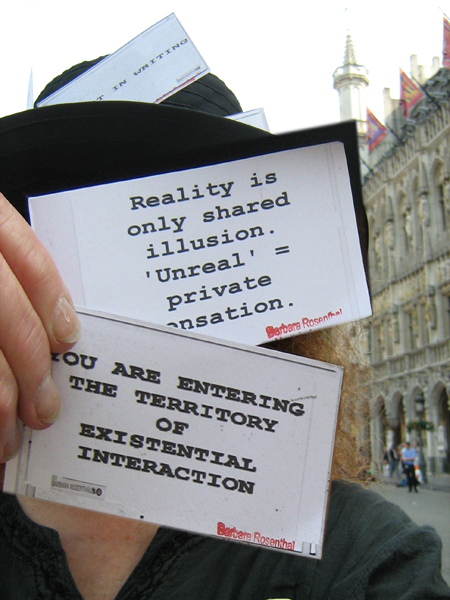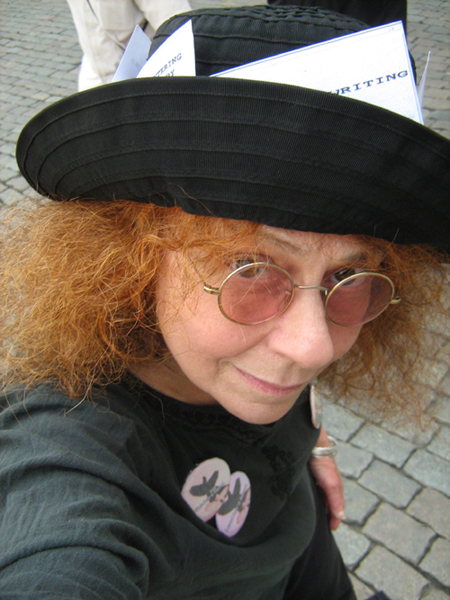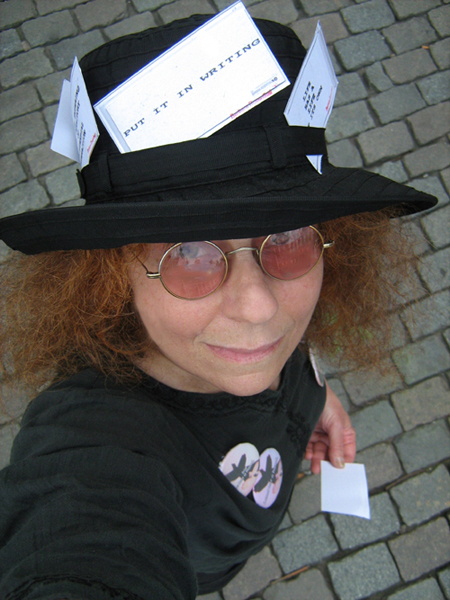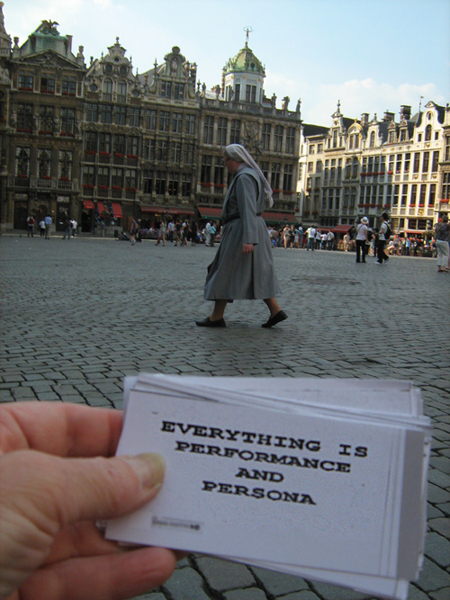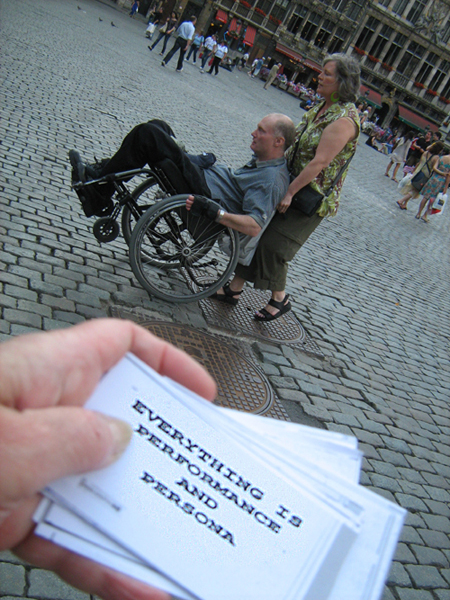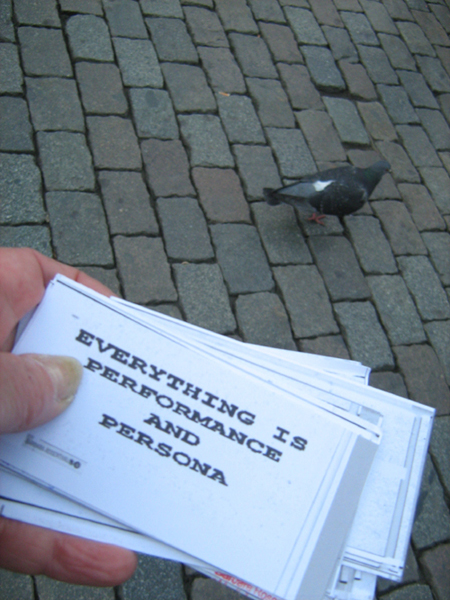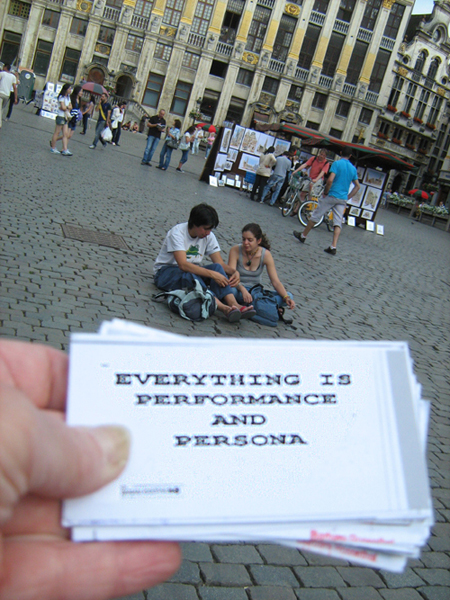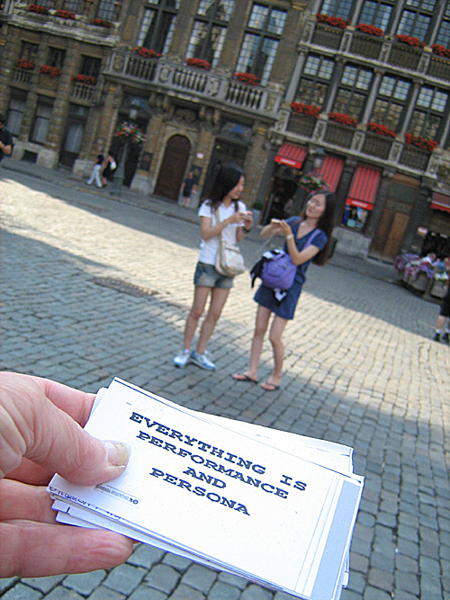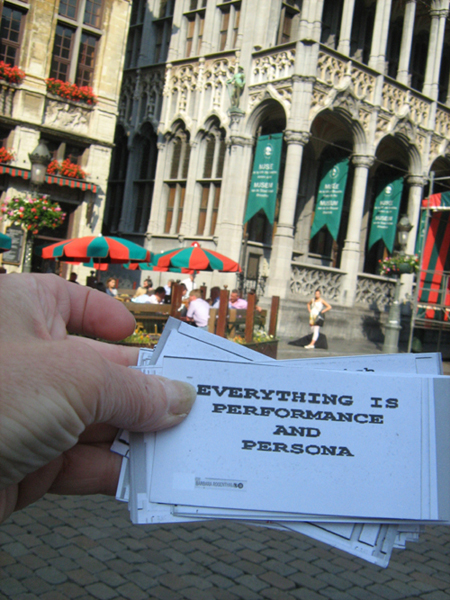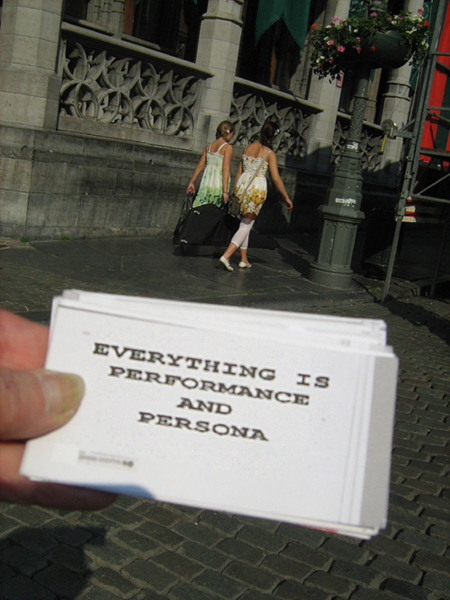 "Identity Theft Masks
with Button Pins and Provocation Cards Interactive Performance"
in "A Moving Exhibition" curated by Zia Fernandez and Antria Pelecano
10Gales Gallery, London
May 22, 2010
Review by Jennifer Brewin in "Book Arts"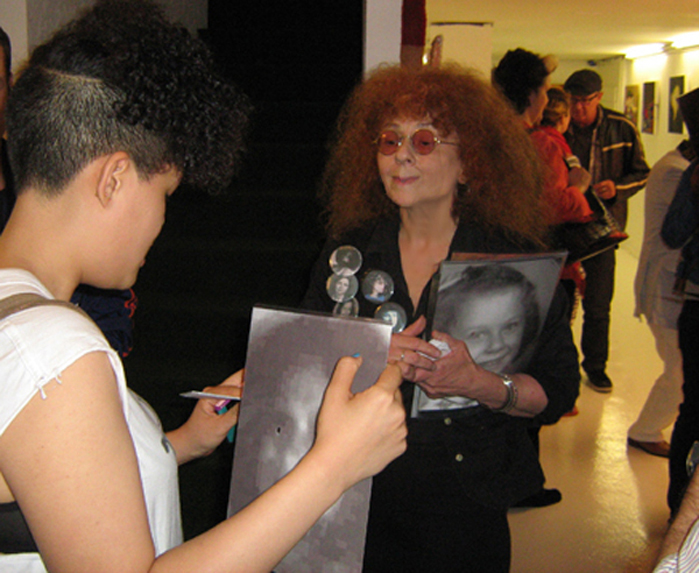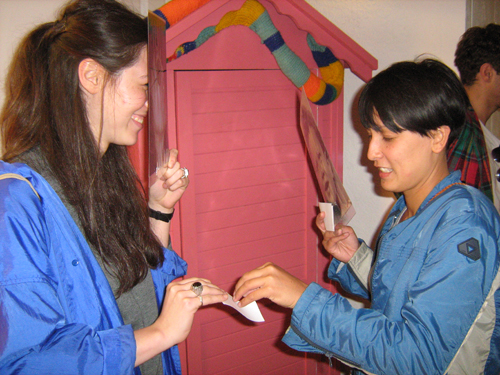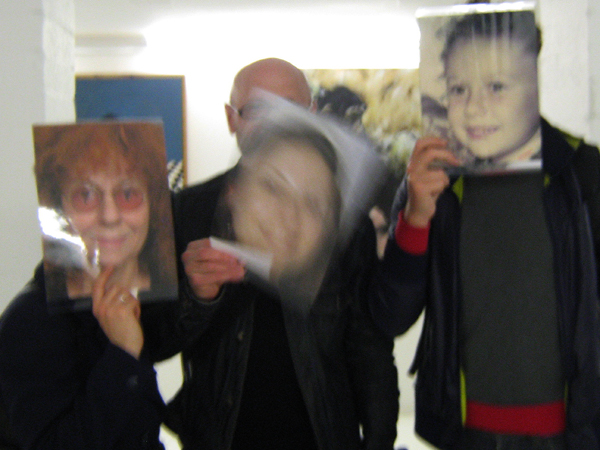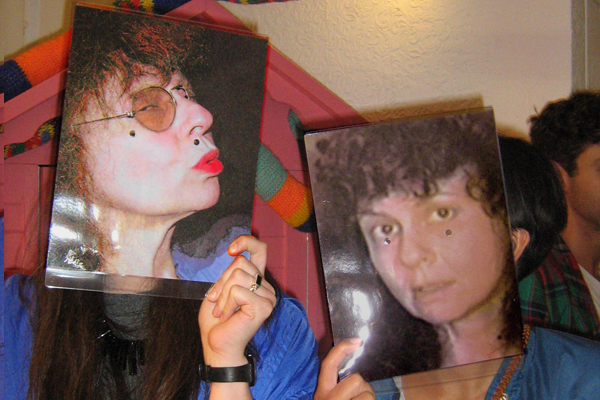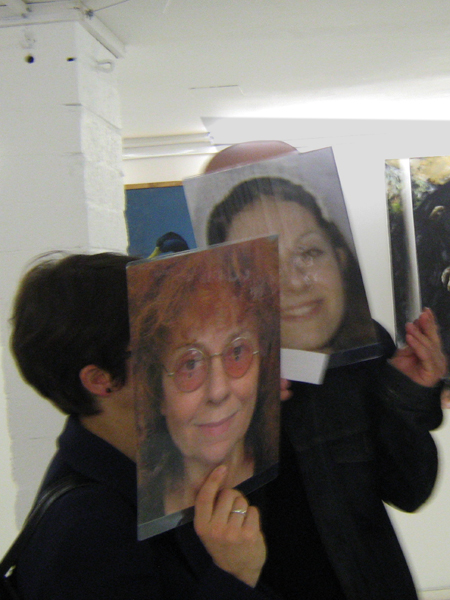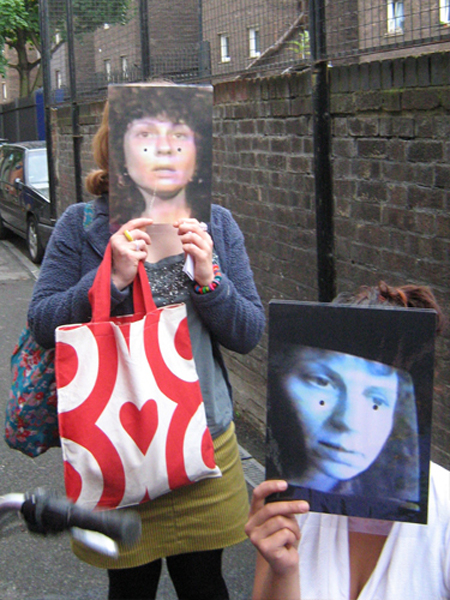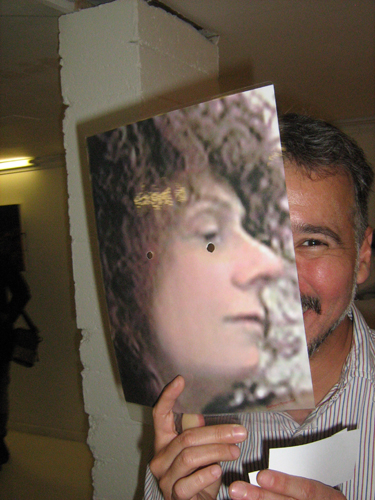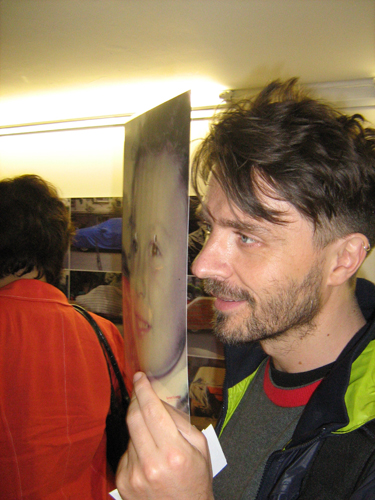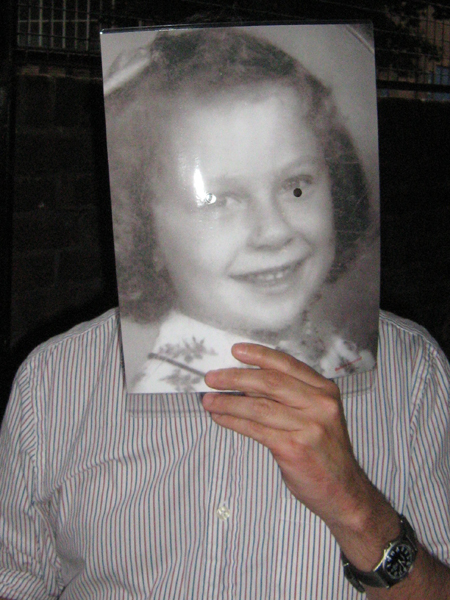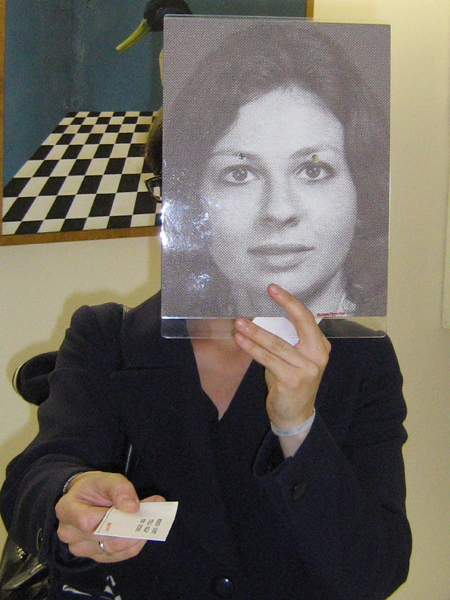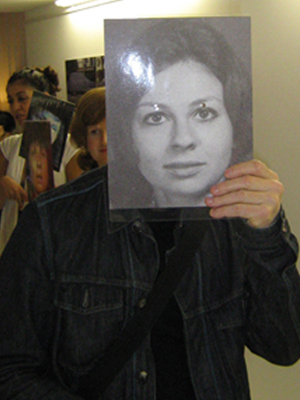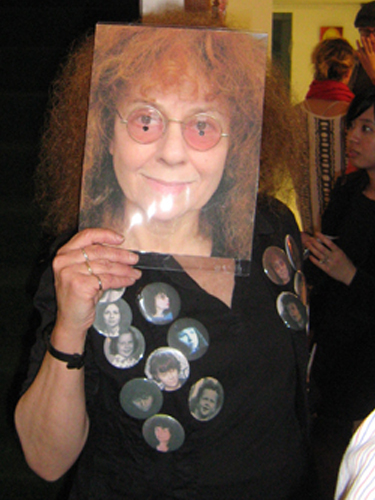 "Identity Theft Masks
with Button Pins and Provocation Cards"
independent solo interactive performance
Stonehenge, UK
Summer Solstice, June 21, 2010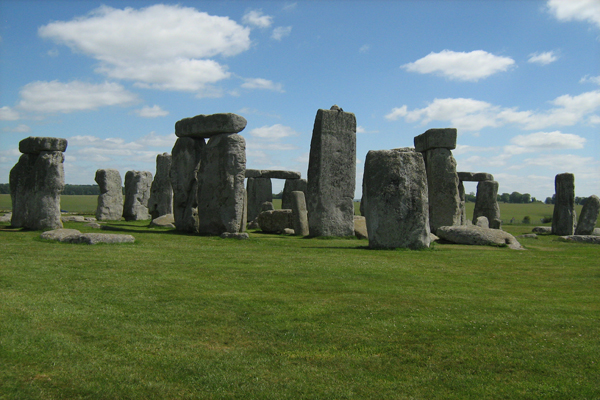 "Das Tagebuch gibt mir Ideen"
solo performance, reading and Journal projections hosted by Tom Bresemann
Lettrétage: Das junge Literaturhaus, Berlin July 9, 2010
Review by Ngan Le in "Book Arts"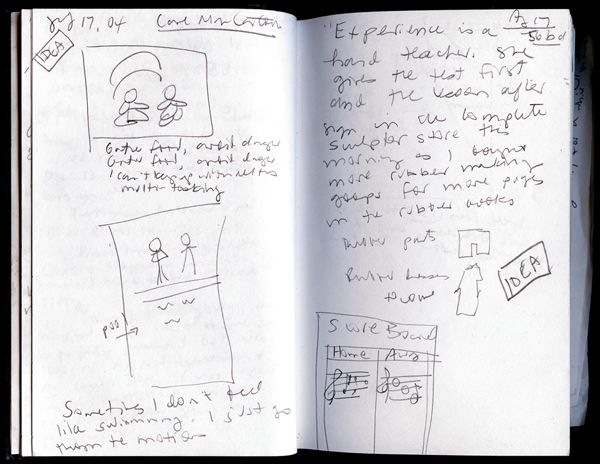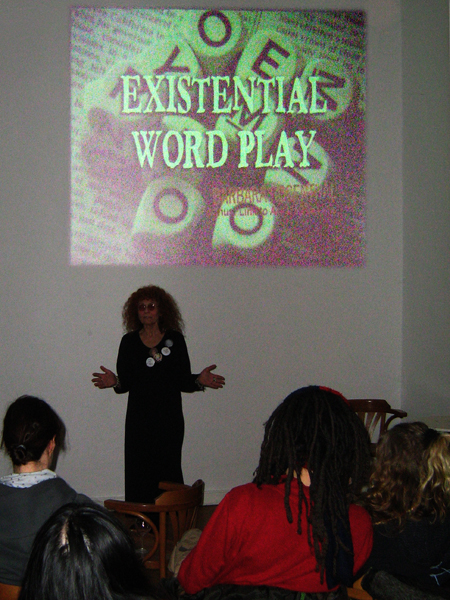 "Hot and Cold Shakeup"
solo performance, eMediaLoft.org, plus video tricks
Screened at EJECT Performance Festival, Mexico City, 2010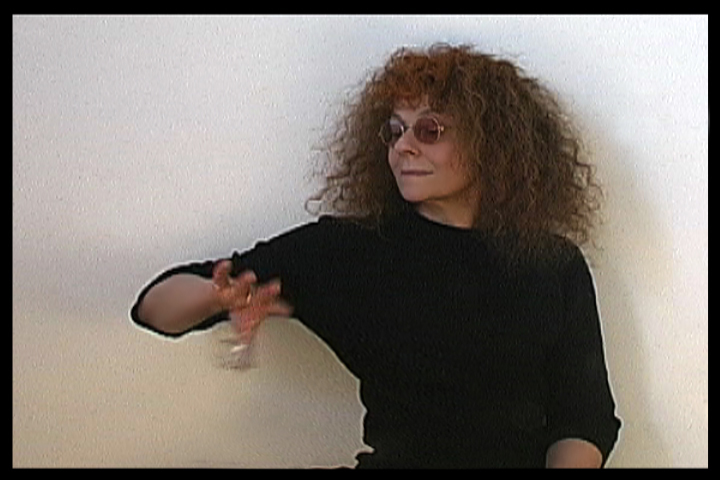 (click here to play video)
"Existential Interact
with Identity Theft Masks, Button Pins & Provocation Cards"
interactive performance and performance documentation
representing the U.S. in Performance Art and Text-Based Art
in" TinaB: Prague Contemporary Art Festival" curated by Monica Burian
Vernon Gallery, Prague, CZ

Oct. 2009
"Barbara Rosenthal and DJ RoBeat:
Surreal Stories, Sound and Abstract Projections"
performed reading with electronic music and projection hosted by Valeria Dimartini
Lucas Carrieri Gallery, Berlin
June 30, 2009
Review by Clare Carswell in "Flash Art International"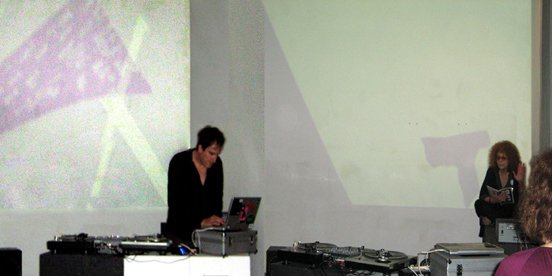 "Existential Interact"
solo interactive performance
in "Wooloo Berlin New Life Festival" curated by Martin Rosengarten and Sixten Kai Nielsen
June 1-15, 2008
Review by Clare Carswell in "NYArts"
"Barbara Rosenthal Contemplates Suicide,"
bathroom installation with video performance
in "Art Attack: Pool Art Fair" curated by Thierry Alet
Chelsea Hotel, NYC
Sept. 27-39, 2007
"Existential Interact With Button Pin Shirts and Provocation Cards"
(with Margot Neiderland)
independent satellite crash during Performa05
In front of White Box Gallery, NYC, Nov. 5, 2005
In front of Guggenheim Museum, NYC
Nov. 14, 2005
Review by Milton Fletcher in "NYArts"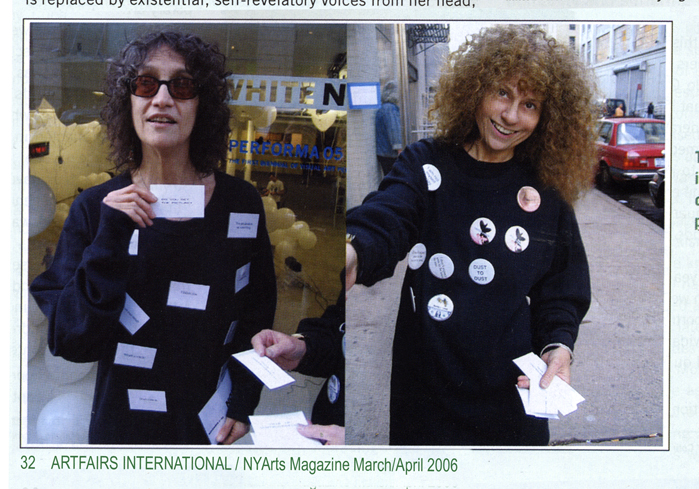 "Excerpts from Sensations, Homo Futurus, and Soul & Psyche"
in "Poetry Karaoke" hosted by rev.99 culture jam"
Bowery Poetry Club, NYC
May 24, 2005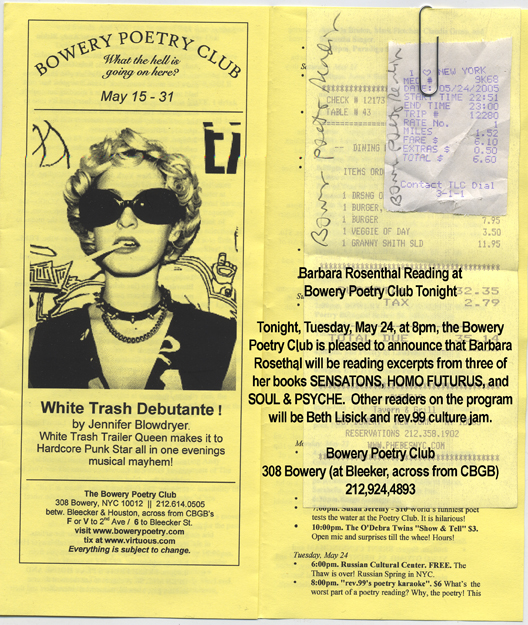 "How Much Does the Monkey Count"
CBGBs, NYC
Oct. 5, 1991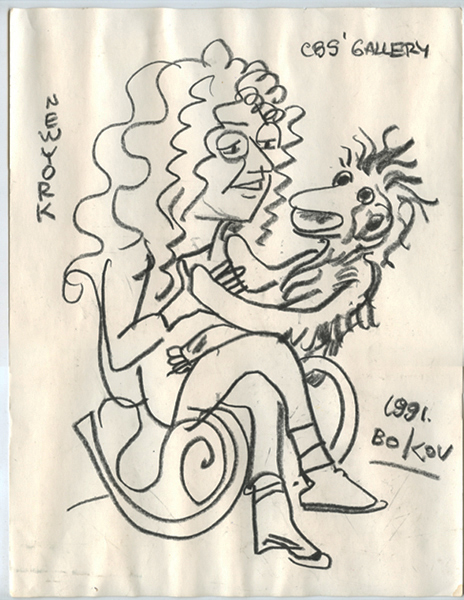 "First Impresssions, Last Resorts: Printmaking at the End of the Century"
(with Ellen Handy, curator and host)
Plohn Gallery
Fairfield, CT
April 15, 1991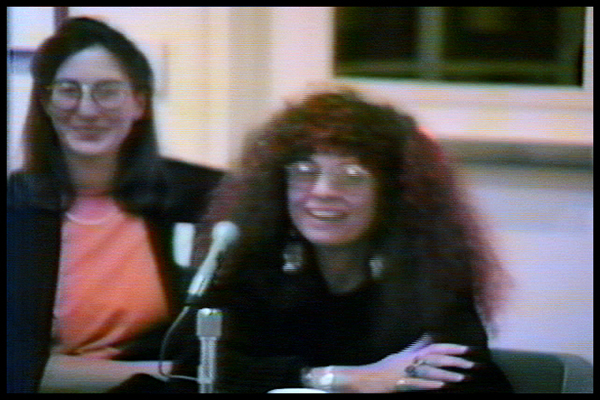 "Go-Go Dancer"
Craig Street Bar, Pittsburgh, PA;
The Lakeside Way, Seattle, WA;
Metropole Cafe; Mardi Gras; Carnival; Adam & Eve. NYC
and in "Open 7 Days a Week 24 Hours a Day" film by Bill Creston
1969-1979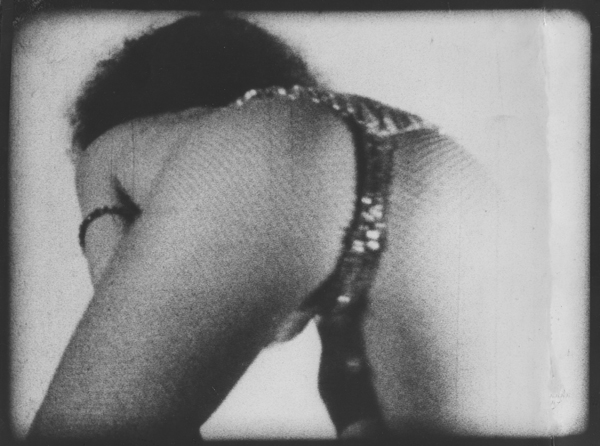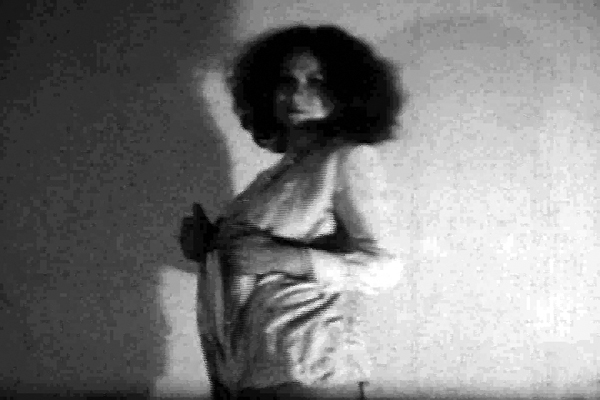 "Self-Portrait Room"
Pittsburgh, PA
May 15, 1968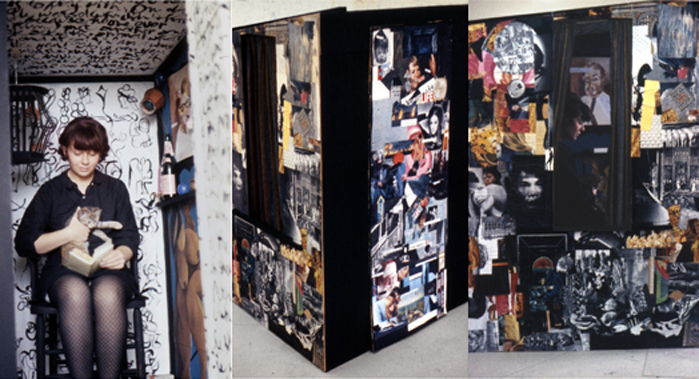 44 of 103 Performance Videos
1976-2012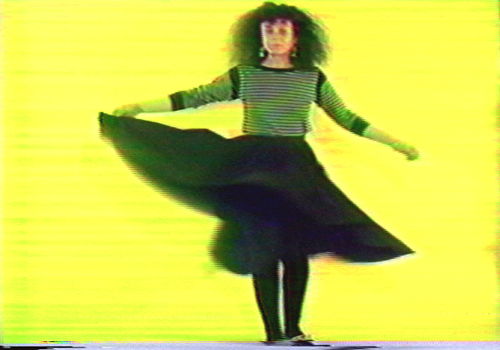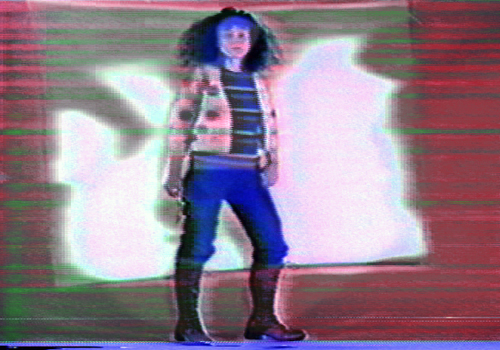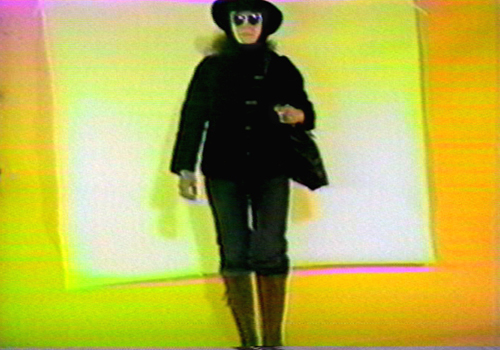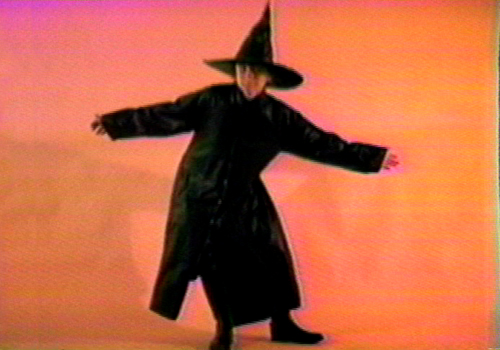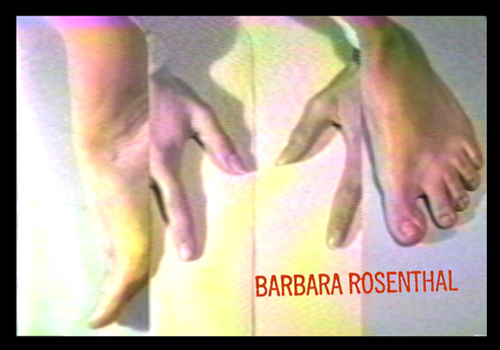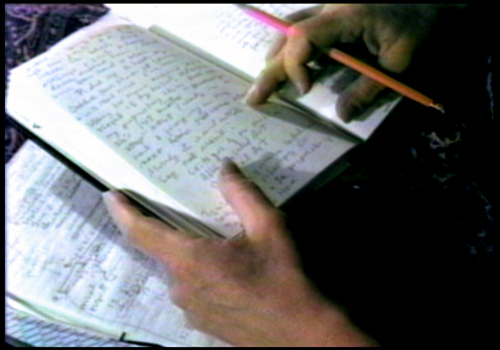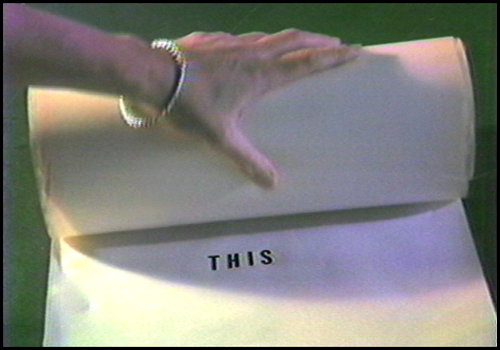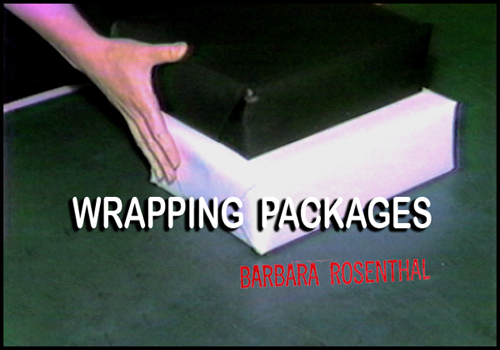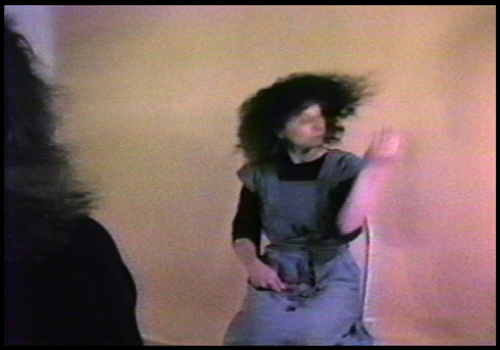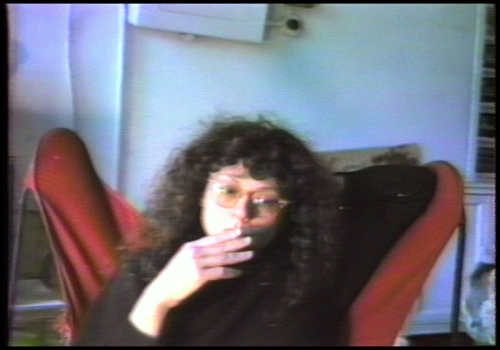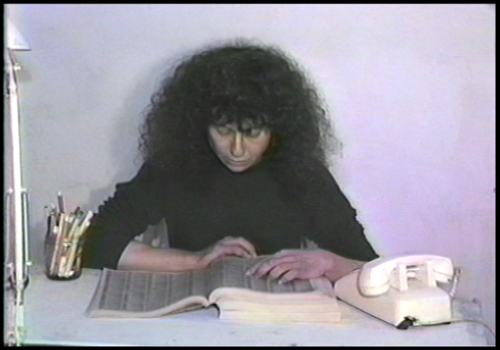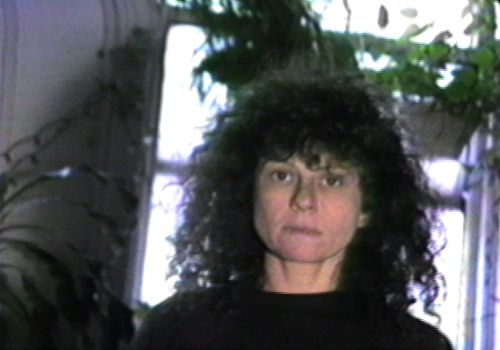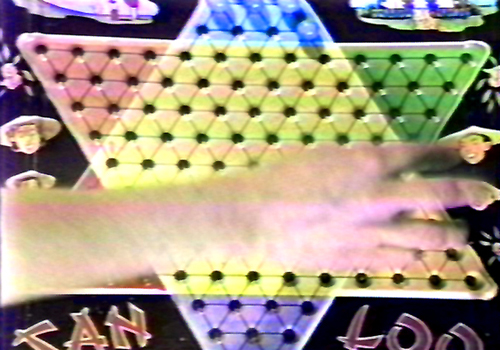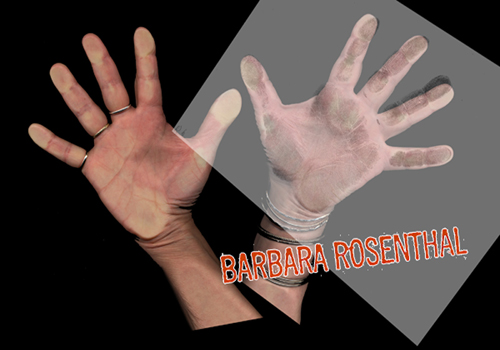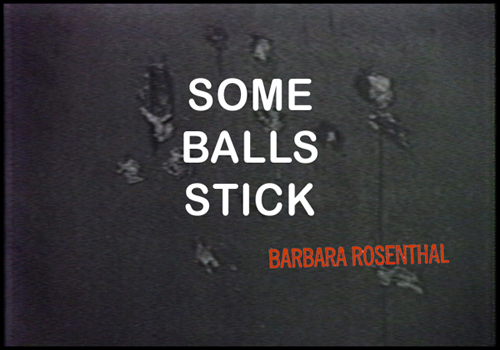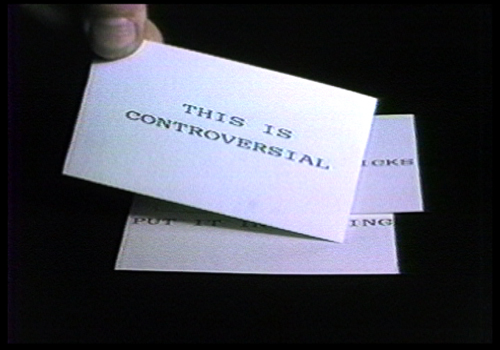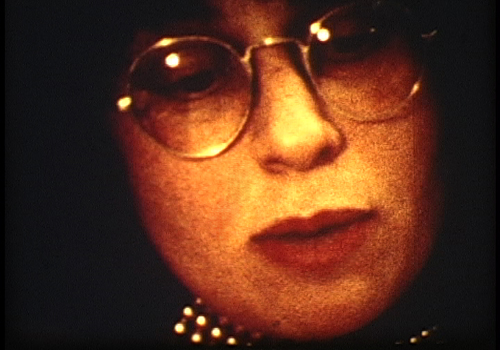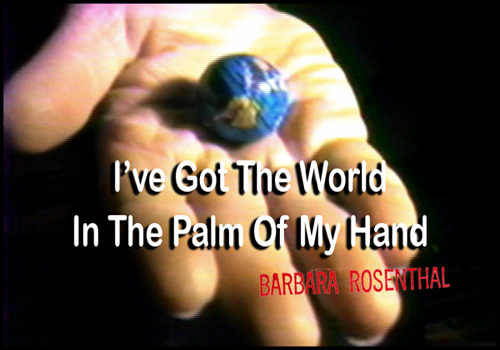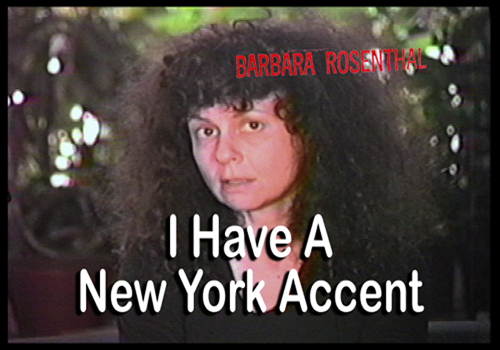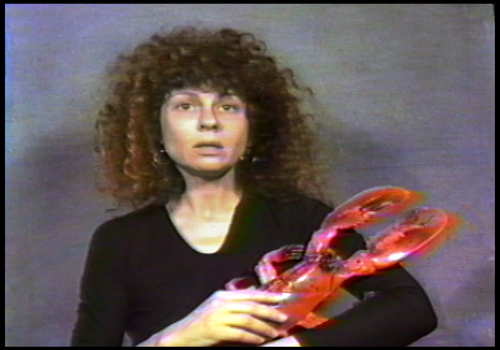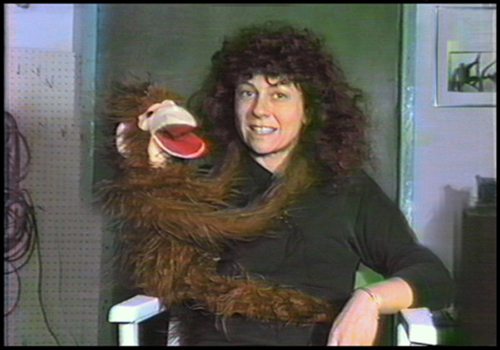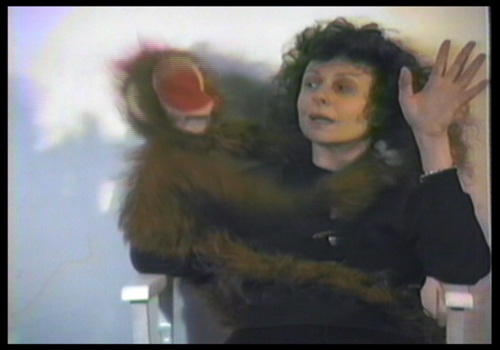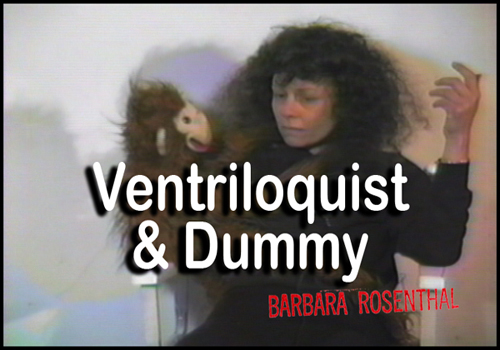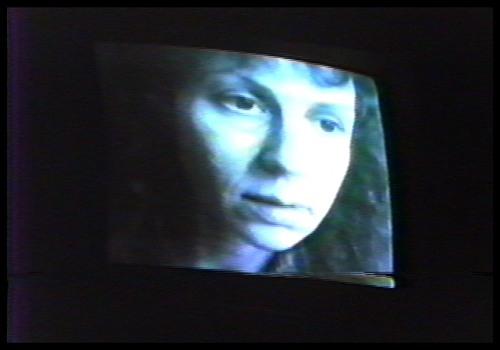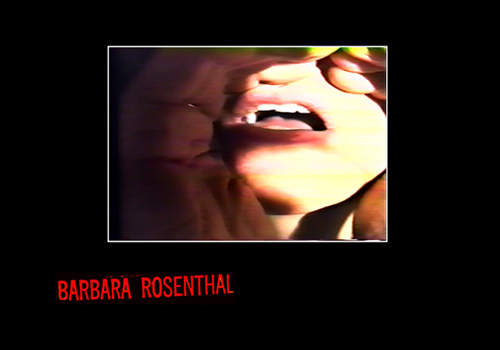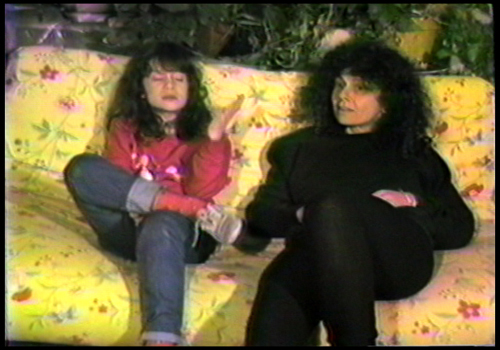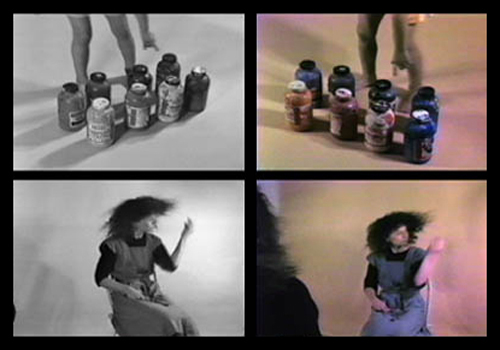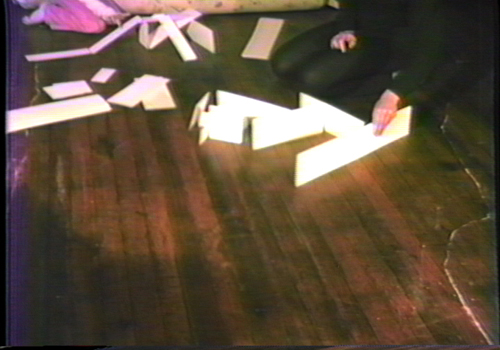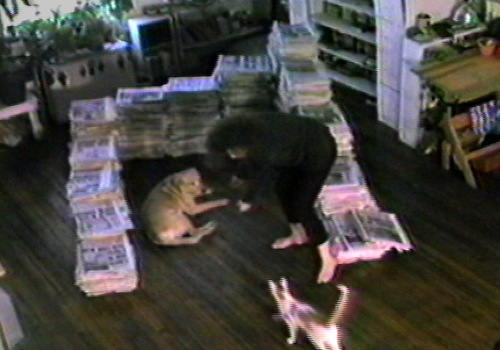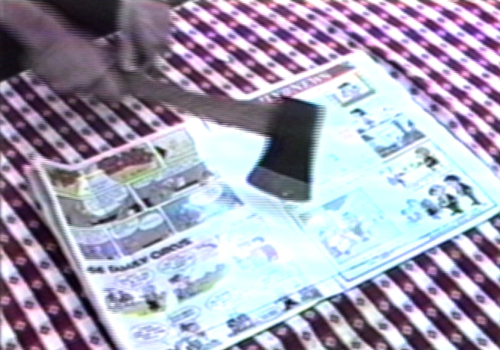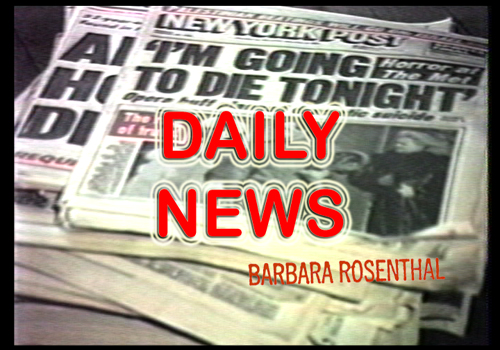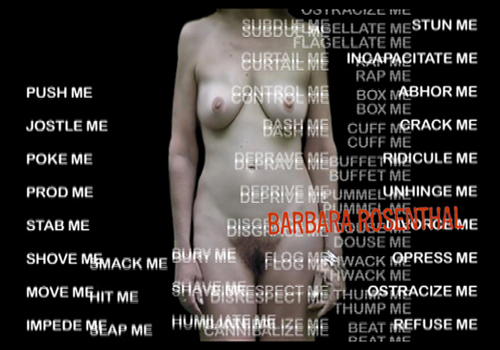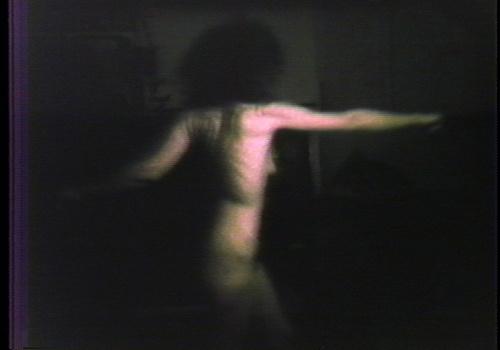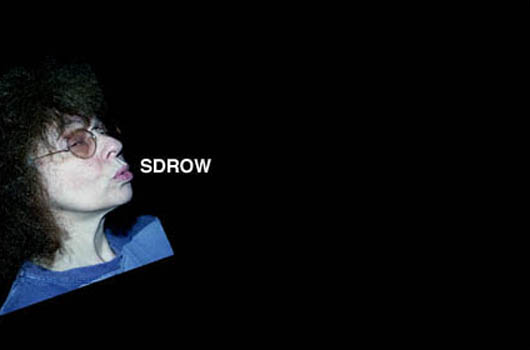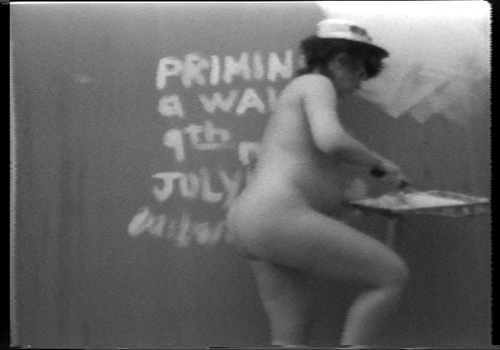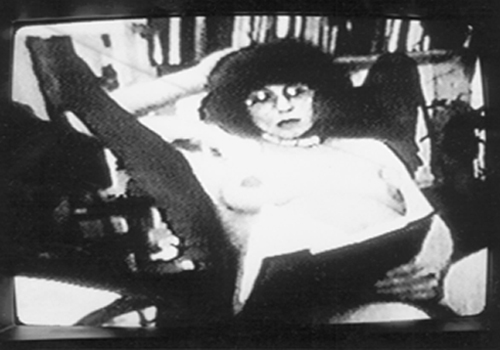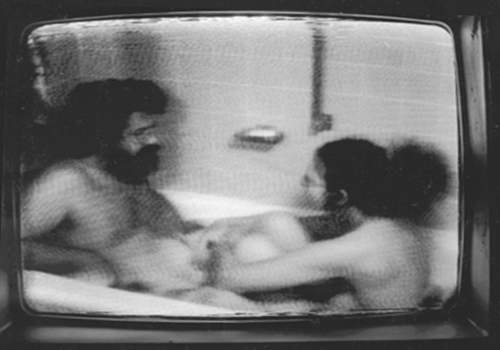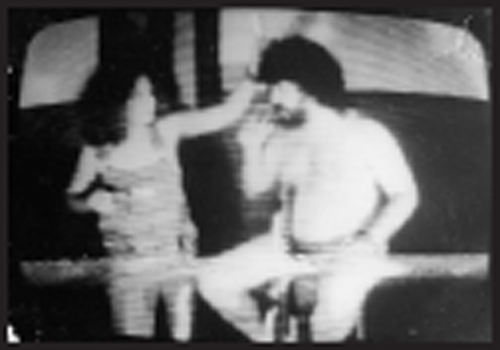 credits:Audiopollen/Brisbane photo by Alan Warren; Grace Exhibiton Space photo by Bill Creston; Paris photo by Johnny Coole; Tribes photos 1-4 by Bill Creston; 5-13 by Peter Grzybowski. Joe's Bar photos byNgan Le; Lucas Carrieri Gallery photos by Kirsten Pinz. Berlin New Life Festival photos by Clare Carswell. CBGB's Rosenthal charicature by Bokov. Lettrétage photos by Kirsten Pinz.Central Booking photos by Bill Creston. SET Gallery photo by Jung Nam Lee. TinaB - Prague Contemporary Art Festival 2010 Rosenthal caricature by Klaus Busen. TinaB - Prague Contemporary Art Festival 2009 photo 1 by Stuart Aird, photo 2 by Monica Burian, photo 4 by Lia Chavez. During Performa05 photos by Milton Fletcher. Super-8 GoGo film stills by Bill Creston.